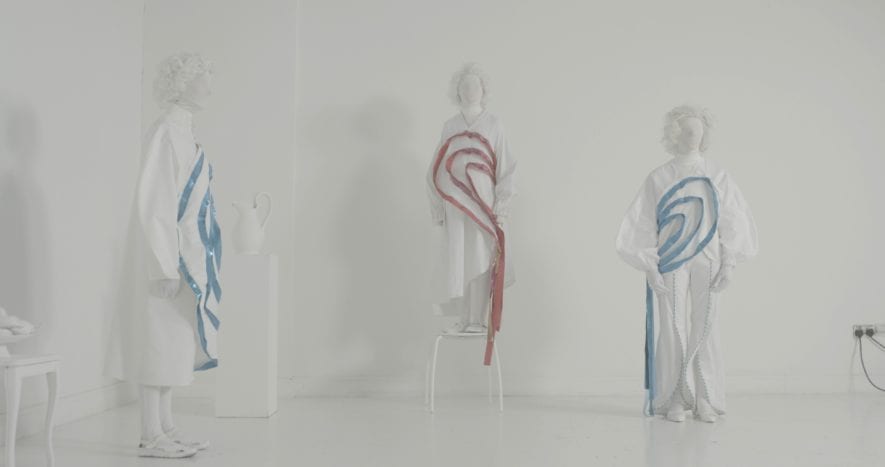 Caoimhe Fox
'In the depths…'
This Collection is inspired by a Retro-futuristic depiction of an underwater world.  Taking inspiration from past predictions of what today might have looked like and how these creative but 'unrealistic' illustrations aren't all that far off the world we live in today.
The aim of this collection is to mix together the past with my own predictions of the future, an underwater world.  It uses optical illusions to create movement through the garments which gradually falls apart as the collection progresses. You are drawn to the movement of the illusion which represents 1960s pop art fashion but also the disorientation of being under water, the falling apart of the collection comes from the uneasiness about where the future is heading.
This illusion of movement is developed in the drawings and then carried through onto the stand creating a shape for the body. I took references from scuba suits and space age fashion to create details throughout the collection. Working with bias cut against straight straps to create a stripe, allowing it to stand out from the body. Cutting full bias circles forms a spiralling effect to fall from the garments. Hanging stripes fall and move freely to represent the weightlessness and ebb and flow of the underwater world.
Using a white base with rainproof fabrics symbolises the futuristic theme and the use of fabrics that shine creates an underwater look. The tiny hexagons of glue on the wrong side of iron-on cotton create a wet, glistening effect. Multiple textures and layers of turquoise, pink and purple plastic and shine fabrics create the illusion of change depending how the light hits the fabric. Topstitching creates a clean finish and piping adds colour and line to edge the garments.
Internship
Ellery, Sydney Australia