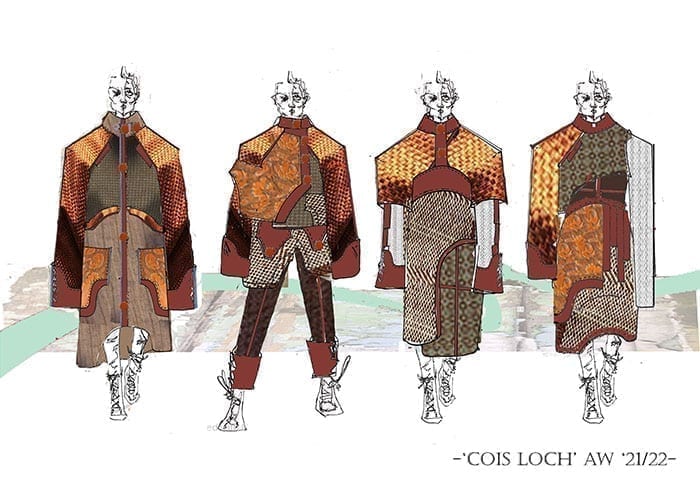 Sarah Keaney
Cois Loch
My graduate collection is inspired by Hazelwood House in County Sligo, which I live less than a mile from. It is a 300-year-old estate which has stood the test of time, taking on several roles throughout its lifetime. It was the first Palladian style of architecture built in Ireland, by Richard Cassells who also built Leinster House.
Hazelwood House is often regarded as 'the most neglected treasure in County Sligo' and was once a great inspiration to WB Yeats which can be seen in his song 'A Wandering Aengus'. From a distance its bold imposing structure looks strong. However, on close inspection you begin to see its demise, in the peeling layers of paint and tearing of old plaster. I was keen to show this contrast of slow deterioration and solidity of structure within my collection.
I began by meeting with the restoration architect of the house Wendy Lyons, who kindly gave me copies of her hand-drawn architectural drawing of the house and its layout. I used these to collage with, I then blew them up and worked with them directly on the stand, to create the bold outset structure of the garments. Working from flat collage to 3D on the stand allowed me to create an androgynous collection. The harsh line of the building contrasts and compliments the softer deterioration aspects of the collection.
I focused on the crumbling textures of the peeling paint and plaster detailing by layer fabrics, piping panels, and hand stitching showing the deterioration of the strong structure and its extremities. I experimented with embellishing fibers, painting, and fabric weights such as linen, pleather and natural fiber to create my own fabric and texture. Which emulated the atrophy of the property.
Work Experience – Temperley London.