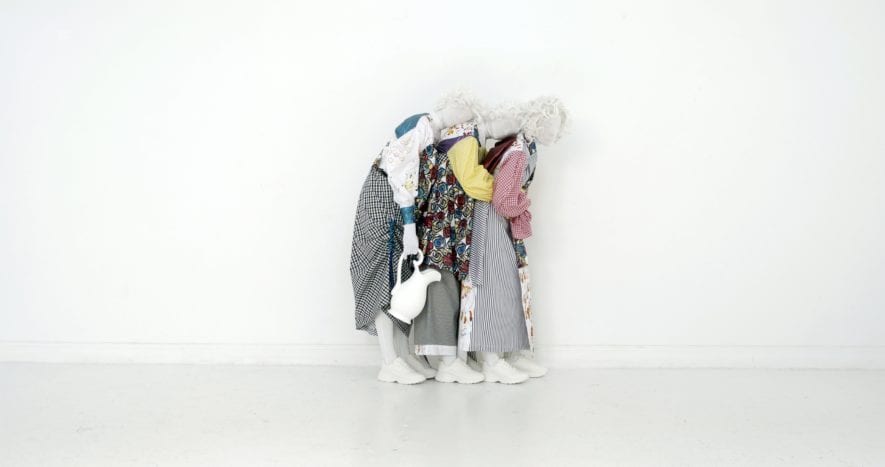 Ijeoma Rosita Griffin
Family Tie
My collection is inspired by the word "Hoarding" in relation to my beautiful small family of 4, I try to find that special bond, connection, and memories that I share with my daughter, my son and my husband on everyday bases. I collect and preserve every memories that we create together, from the ups and downs of life, the sweet and sour, the laughter and growth, the lessons we learn and share together, down to the simplest scrapes and artistic creativity that my children share with me.
I incorporated all the arts that I have hoarded over the years from my children as prints, these were personally hand printed by my kids. Different types of print where used exclusively throughout this collection to showcase the chaotic and visual interpretation of my day to day life as a mother, a wife, daughter, a sister, a student and a friend. It also represents happiness, smiles and freedom.
I applied an innovative technique in achieving every details, cuts and spec for this collection. The 3D round/circular shapes incorporated on every looks are from the love doughnut that my son has, which I have had to stock up on every week. The pulling and gathering and tying , creates a sense of togetherness, restriction and the bond that we share as family. Every layers in each look is a reflection and representation each stages of growth and comfort that we share as family. My collection consist of 100% cotton and cotton drill fabric, 3% plastic fabric for details, and 30% synthetic fabric. I carefully choose every printed fabric, and pattern for each look, and allocated them in the best way possible that reflects the special and colourful bond that ties my family together.
Work Experience: Isa Arfen, London.
LEO Bursary: 2019 Finalist.