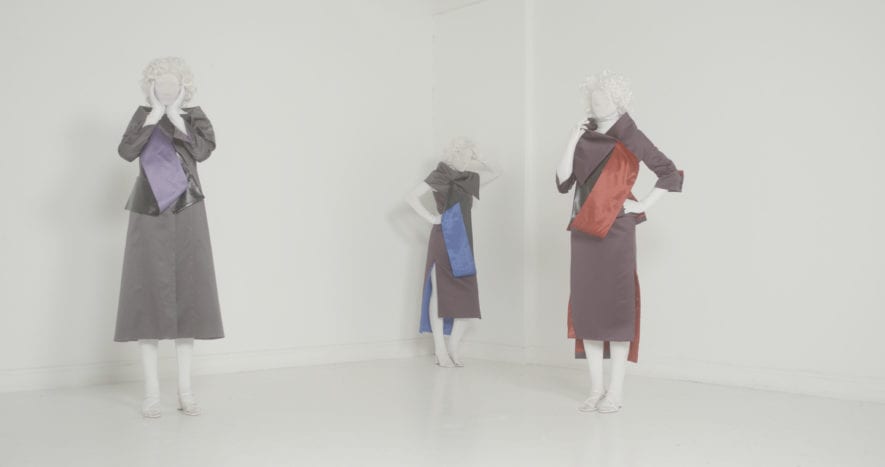 Ian Hickey
What Lies Beneath
My collection is a response to social stratification and the push in our society towards a dystopian future by the upper echelons. I focused on a time in our history when we as a society were on the verge of collapse. Using London during the blitz of WWII as a central focal point. I aim to display in my collection the use of propaganda directed towards the people by their own government and the destruction of everyday life into one of paranoia, where the population is treated as a commodity rather then who they are, people.
For my collection I focused on a tailored look, fitting in with the style of the 30s-40s garments, with emphasis on the restriction faced by the manufacturers during the war. Where garments were limited to the amount of fabric, buttons and tread that could be used in there construction, due to the rationing of resources. By using modern fabrics such as Poly Satin and PVC I aimed to give the collection a more modern contemporized feel, and the use of Silk Satin to give a nod to the designers of the past who were permitted to flaunt their craft.
To achieve this look I focused my attention on innovative pattern drafting allowing the fabric to better fit the body and still keep the feeling of technical driven minimalistic business wear. Where precise measurements were the driving focus. Working on the stand with the garment I added the elements needed to display the disarray of the period by hand sewing the turned over angles, displaying the colours that lie beneath.
Work Experience: Saloni London – London
The Irish Fashion Innovation Awards 2019, Student Designer of the Year, finalist.
LEO Bursary 2019, finalist.