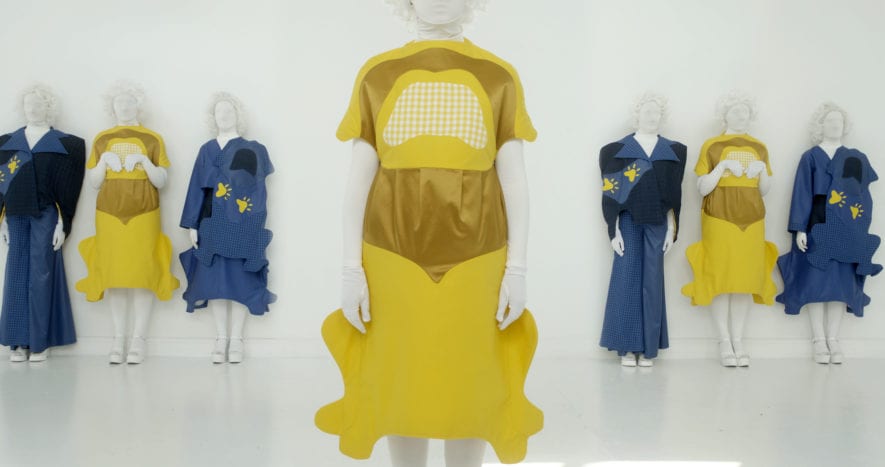 Chloe Joyce
A Pack of Mutt's A/W 20
"A Pack of Mutt's" is inspired by Wes Andersons Isle of Dogs. The aim of the collection was to create a funky streetwear collection for women, whilst also raising awareness of the mistreatment & cruelty of dogs globally. The collection was created by using my own digital drawings of extraordinary sized dogs on the stand, and also used for flat patterns. The collection emphasizes innovative cut whilst keeping the collection sustainable with little to no waste, by using the same pattern pieces throughout the collection. The fabrics used throughout are half natural, half synthetic. Including denim, cotton, faux leatherette and harsh plastics. This is in homage to the stark contrast of 'Trash Island' to 'Megasaki City' in the film. Chaotic, post-apocalyptic Trash Island to the pristine, clean cut Megasaki City. It is also a response to the underlying message in the film that pollution is extremely damaging to our planet.
The paw prints used in the collection were used to symbolise the imprint dogs have in our lives. Walking throughout in the film and in reality, leaving their imprint. My natural fabrics were ethically sourced, traceable to the mills in Amsterdam, Netherlands. The collection tells the story of a little boy 'Atari', on a path of chaos and panic to find his lost dog 'Spots'. The colours of the collection, were inspired by scenes of the film, when Atari is in search for Spots on the middle finger isle of Trash Island. Atari walks through an exaggerated, cartoon world, where cities of bathroom waste and industrial waste are kept. The colours of blues & yellows imply the crazy result our world would be in if taken over by trash. The garments are all finished with clean, faced edges. This is to represent the leadership & assurance of 'Chief', the leader of the alpha dogs who help Atari find his way on his search for his beloved Spots. Dogs are not our whole life, but they make our life whole.
Work Placement: Viktor & Rolf, Amsterdam, Netherlands.